I started writing a journal and short stories in my high school years.
My first four books are written to assist parents, professionals and individuals on the spectrum in every area of their lives.
My memoir describes the process of overcoming many obstacles in my life through resilience

.

I am writing three novels and a screenplay.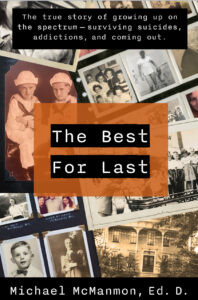 The True Story of Growing Up on the Spectrum, Surviving Suicides, Addictions, and Coming Out
This is a powerful memoir about surviving in a world you see differently from everyone else. This book is inspirational and will help anyone who is struggling with seemingly insurmountable hardship. It is a personal story exhibiting courage and resilience.
AUTISM AND LEARNING DIFFERENCES
An Active Teaching Learning Toolkit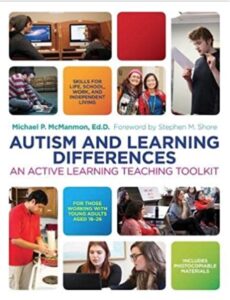 Presenting tried and true strategies, this comprehensive toolkit supports educators and clinicians in their work with young adults on the spectrum or with learning differences. It is chock-full of activities, ideas, examples, exercises, teaching materials, and strategies.
It has focused chapters on skills for life, school, work and independent living.
Sections on peer mentoring, mediation, and inclusion
Assessment strategies, including student self-assessment materials and feedback forms.
Photocopiable teaching materials and tips for classroom management.
It has a wealth of materials and information to assist in running a classroom or program for young adults with learning differences.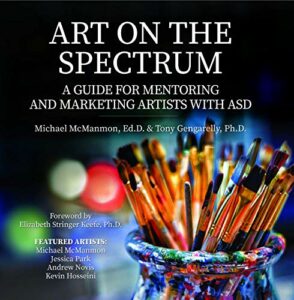 A Guide for Mentoring and Marketing Artists with ASD
This book compares and contrast the emergence of four artists on the spectrum. Each with their own individual career trajectory. The book presents profiles of each artist, their education and mentoring, family support system, obstacles, successes and how they advanced their careers.
A unique aspect of this book is its spotlight on Artist development by offering a toolkit and resources for emerging artists.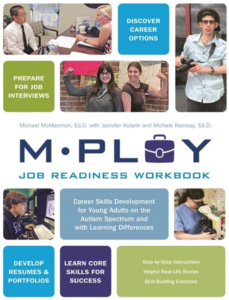 Career Skills Development for Young Adults on the Autism Spectrum and with Learning Difficulties
A self-guided workbook  to assist students with ASD and Learning Differences to learn the necessary skills for entering the workforce and forging a meaningful career. The book is broken into three critical areas to insure success:
Developing your interests and abilities
8 skills employers look for
An employment toolkit
The book can be used by an individual, or professionals and teachers working with groups of students. There are pertinent stories of student struggles and successes and exercises to enhance the learning process.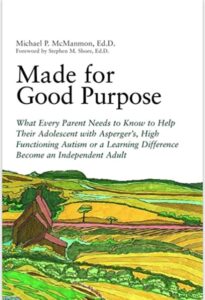 What Every Parent Needs to Know to Help Their Adolescent with Asperger's, High Functioning Autism or a Learning Difference Become and Independent Adult
Filled with useful advice, easy to apply techniques, and insights from both the author's own experiences of Asperger's Syndrome and those of his students.

This book is a practical guide for helping young adults on the Spectrum achieve independence and learn life-long skills of self-knowledge, self-sufficiency, and self-advocacy.
©2012, Jessica Kingsley Publishers.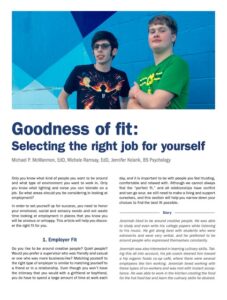 Selecting the Right Job for Yourself
The article explains the five areas of that students need to look at to determine if a job is the best for them. They include:
Employer Fit
Environmental Fit
Sensory Fit
Social Fit
Intellectual Fit
Each category has a corresponding student experiential story. The article also explores the area of stress on the job.
PCP (Person Centered Planning) can be a tool for self-understanding
Using this process with young adults allows them to envision their pathway forward toward their goals. As detailed as they can be about exactly what they want for their lives, the more likely they will attain their outcomes.
The student writes an action plan for all the following areas:
Relationships

Social

Living Arrangements

Employment

Education

Organization

Health and Wellness
They write five year goals, one year goals and six month goals for each area. They also decide who can assist them to reach each goal and what preliminary skills they need to attain to reach a goal.
If they can envision their goals, then they are already half way toward gaining them
After my late diagnosis with Asperger's Syndrome I wrote my book Made For Good Purpose which explains the various areas that students, parents and professionals need to look at in order to make progress. This was accomplished through real life stories of students and their struggles and victories in each area.
I encourage students to learn about their diagnosis thoroughly and to really understand the implications of each area where they differ from a standard learning profile.
I talk about anxiety and how most programs do not include work on wellness and senory integration to help us on the Spectrum to maintain emotional balance.
True Colors: A Story Of Career Success
The "True Story" of an individual on the spectrum and his goals, aspirations, struggles and successes.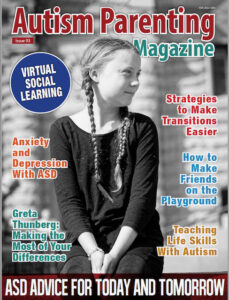 Anxiety And Depression In Students With Learning Differences And ASD
The article explores the contributory factors that increase anxiety and depression with individuals on the spectrum. It then lays out a multitude of strategies for prevention including:
Social Strategies
Flexibility Strategies
Wellness Strategies
Gratitude Strategies
Spiritual Strategies
Valuing Our Older Teachers Who Are Miracle Workers 
Students on the Spectrum can have a hard time accepting support services. Often an older teacher who is calm and socially more relaxed can form a relationship with a struggling student. Students have some cognitive rigidity that will harden if they are approached in an aggressive or even overly enthusiastic manner. Often they will flourish with an older empathic professional who takes them at their own speed. Social acceptance and understanding can assist a student to have the cognitive flexibility to change their social and academic behaviors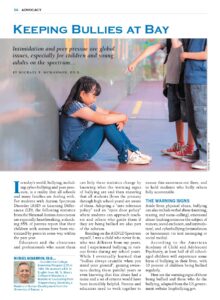 Students on the Spectrum can experience bullying and do not have the social or communication skills to express what is happening to them. They can build up emotional insult which may manifest in acting out behavior or meltdowns. They are also unaware of what rights they have and may not have a connection with a helping professional. Having a trusting adult (counselor or teacher) to go to is important. Students may feel that they deserve the abuse or that it is normal for people to do this. Students need to have strong advocates that they can go to and be taught assertiveness training.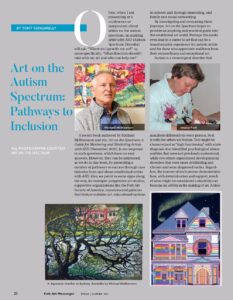 Art On The Autism Spectrum: Pathways To Inclusion
This article compares and contrast the emergence of four artists on the spectrum. Each with their own individual career trajectory. The article presents profiles of each artist, their education and mentoring, family support system, obstacles, successes and how they advanced their careers.
A unique aspect of the book ART ON THE SPECTRUM that is described in this article is its spotlight on Artist development by offering a toolkit and resources for emerging artists.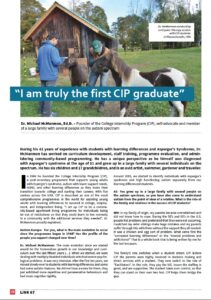 I Am Truly the First CIP Graduate
In 1984, I founded the College Internship Program (CIP), a post-secondary program that supports young adults with Asperger's syndrome, autism with lower support needs, ADHD, and other learning differences as they make their transition to college and careers. Many of them had "untreated learning differences"  that sometimes morphed into  "mental problems and addictions".
I worked on curriculum development, staff training, program evaluation, and administering community-based programs. The CIP program focuses on real-life skills in areas of social thinking, executive functioning, sensory processing and wellness to prepare students for independent living.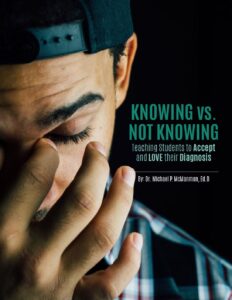 Knowing Vs. Not Knowing: Teaching Students to Accept and Love Their Diagnosis 
Knowing all the intricacies of their diagnosis helps individuals with an ASD or LD to feel proud of who they are.  It helps adolescents and young adults plan their lives in a realistic manner. A classroom setting is an ideal place to work with adolescents and young adults as they begin or continue to understand their autism and/or learning differences . Knowing helps each person move toward greater self-acceptance and less self-blame.  Knowing helps individuals advocate and talk about their strengths and challenges so that others can understand and accept them.  It helps these emerging adults have the opportunity to look up to their own role models such as Temple Grandin, Stephen Shore, Jerry Newport, Thomas Jefferson, Albert Einstein, or other individuals with a known or suspected ASD or LD diagnosis. Knowing enables adolescents and young adults to seek out others "on the Spectrum" or who have similar Learning Differences for mentoring and/or friendship.
Just Be Yourself – Everyone Else Is Already Taken
Young adults on the spectrum need to be taught how to build partnerships, how to manage their emotions and ask for help. Competency with these skills leads to self-acceptance and can help these bright young people achieve success with their goals and dreams